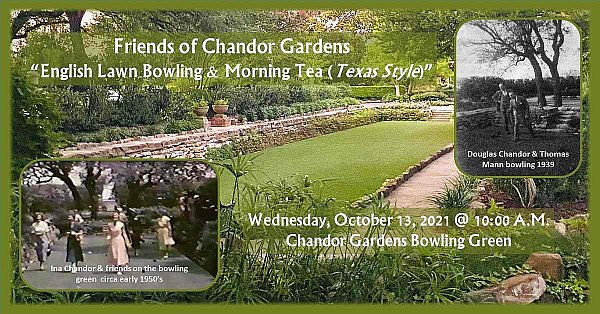 Have you ever walked along the edge of the English Bowling Green (the long narrow strip of sunken lawn 110' x 14') at Chandor Gardens and wondered what it must have been like to have spent some leisure time with Douglas and Ina in this part of the gardens?
On the overcast and drizzly morning of October 13, 2021, a group of twenty Friends of Chandor Gardens members gathered and had morning tea (Texas style - iced tea & biscuits with Texas fruit jelly) in the gazebo at Chandor Gardens. The group got the opportunity to glimpse into the 1940's and early1950's when White Shadows, now known as Chandor Gardens, was the home of Douglas and Ina Chandor. The area around the Bowling Geen and the Bowling Green itself was Douglas and Ina's favorite spot in the gardens to entertain guests.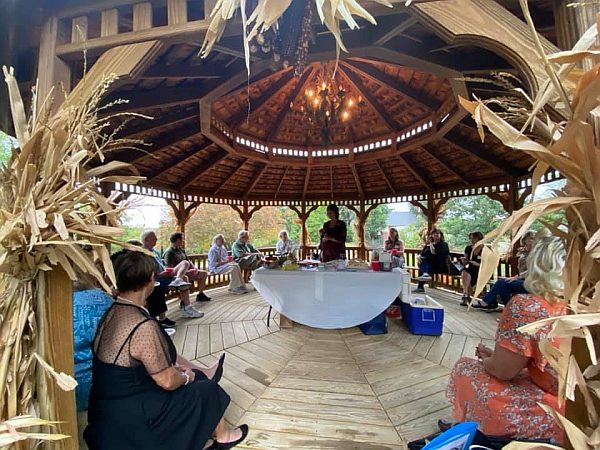 While having tea there was a presentation by Gayle Strangmeyer about the fashions of the 1940's and 1950', and a presentation by Eileen Leslie on the hisory of the game of Bowls (not the same as Bocce) of which concluded with instructions on the basics of playing the game. The group then tried their hand at delivering a few "bowls" down Douglas Chandor's Bowling Green, just like Douglas Chandor and Thomas Mann are doing in the top right insert photo in the first photo above from 1939.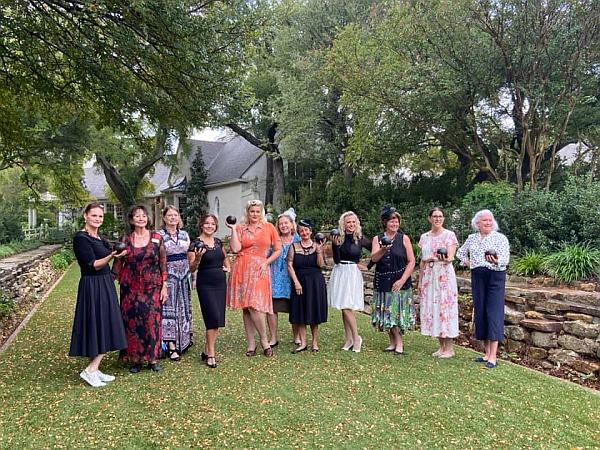 A number of ladies came dressed in 1940's and early 1950's period fashion, just like Ina and her friends.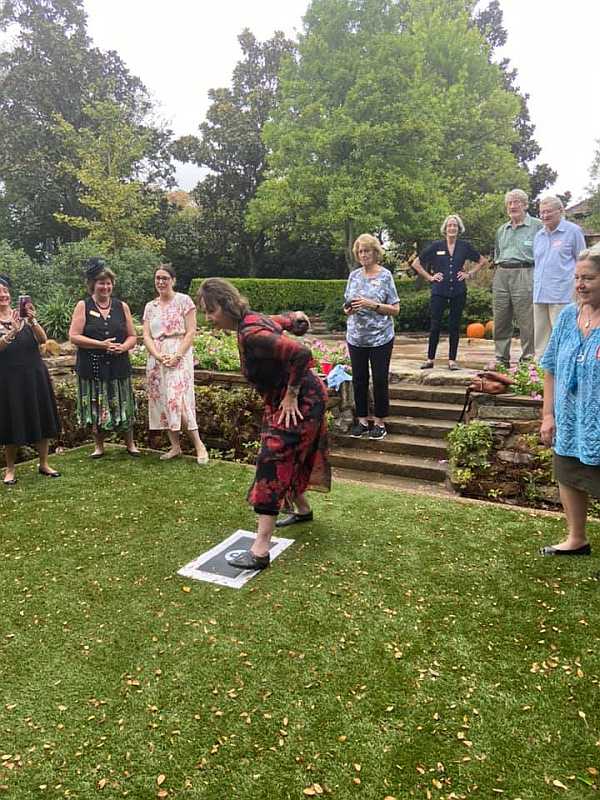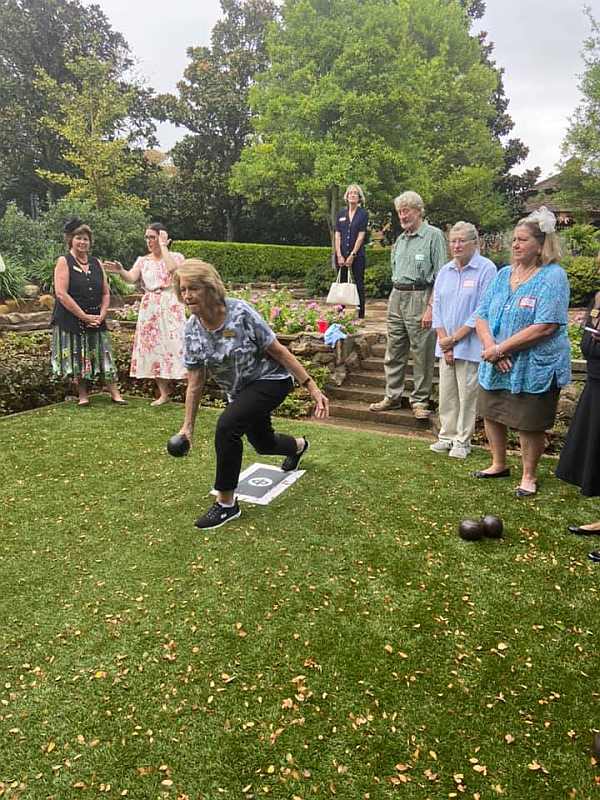 Darlene Chapman & Ann Geer each delivering a bowl down the green!
.
Since rain was moving in very quickly the "Modified Pairs Bowls Tournament" that had been planned was shortened down to a "Closest to the Jack on First Try" contest.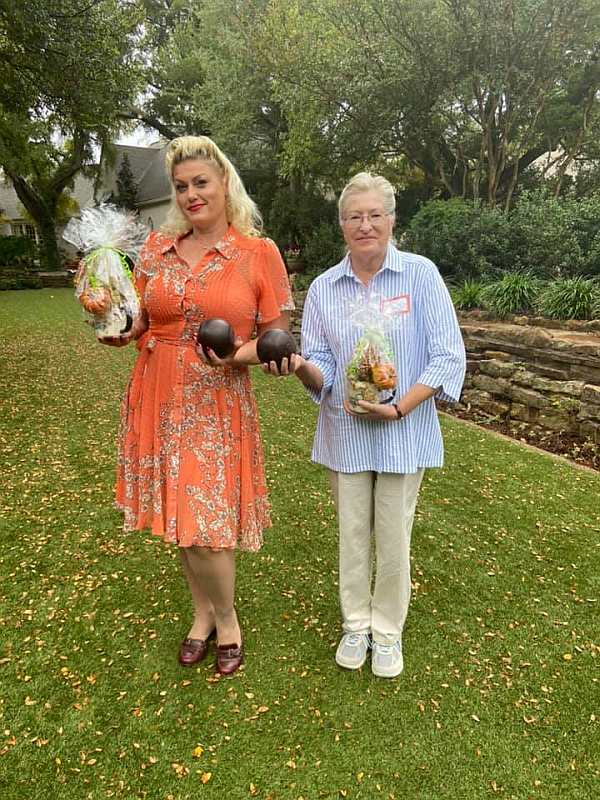 1st Place - Holly Johnson & 2nd Place - Barbara Zeman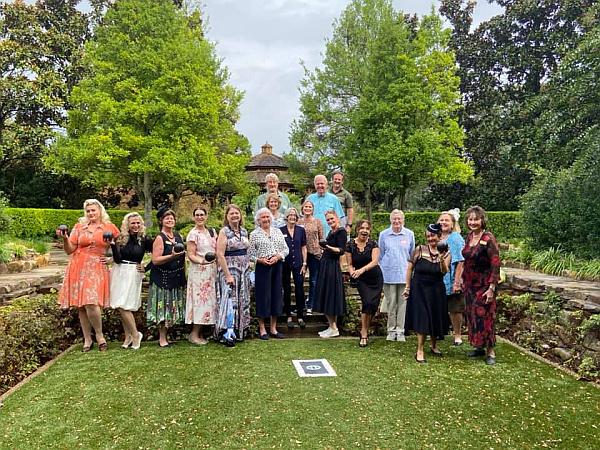 The group of happy "Bowls Players" on the Bowling Green at Chandor Gardens
As the event wrapped up those who attended agreed that it was easy to see why Douglas and Ina enjoyed entertaining guests in this part of their gardens, and why Douglas made a point to create a Bowling Green in his Texas garden, as lawn bowling is surprisingly a very fun game.
Could this be the start of a Friends of Chandor Gardens Lawn Bowls Club or a least a few members getting together for a friendly game now and then? Maybe so.
Attached below is the pdf file about the history of the game of bowls which was part of the presentation given during this event:

Brief History of the Game of Bowls