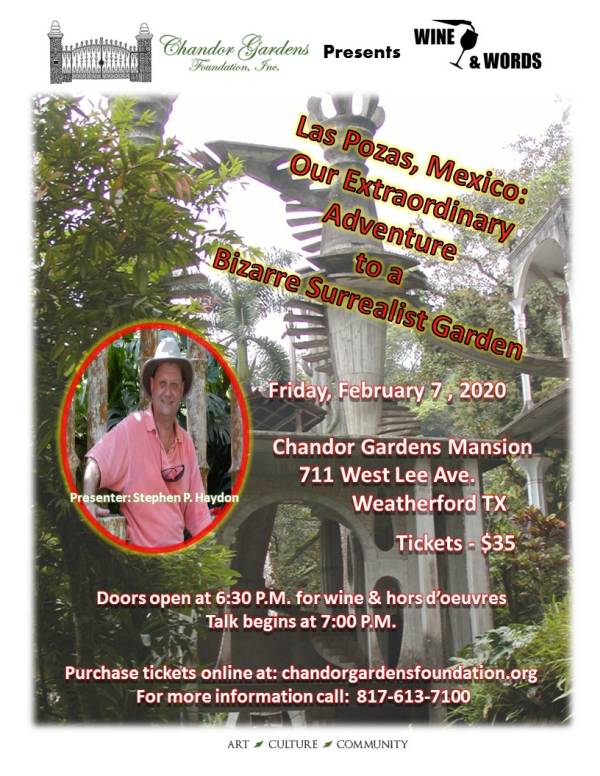 Stephen P. Haydon, Horticulturist for the City of Weatherford, shares his photos and the captivating story of 'Las Pozas', the remarkable surrealist sculpture garden in the remote jungles of Mexico.
Edward James, an eccentric British aristocrat and poet, spent much of his life building a surrealist sculpture garden, called Las Pozas (meaning 'the pools'), in the remote mountains of Mexico . This bizarre surrealist garden, filled with soaring fantastical concrete sculptures set among natural water features, was Edward James' version of the 'Garden of Eden'.
Four friends travelled to find this hidden, gem. Stephen Haydon, Horticulturist for the City of Weatherford, will share his personal photographs from the friends' adventure to Las Pozas. He will also tell about the fascinating life and journey of Edward James - from the hamlets of Chichester in West Sussex, England, to the exotic valley of Xilitla, Mexico, where orchids grow wild.
Join us for a glass of wine and the captivating story of Edward and his garden of Eden in the jungle.
A little about our presenter Stephen P. Haydon:
Stephen has had a diverse and well-traveled career as a professional horticulturist. Even though his passion for plants and gardens took root at an early age, he never dreamed that a life of gardening would take him around the world. Stephen started as a trainee at RHS Garden Wisely, which at that time was the only Royal Horticultural Society Garden in England. Later, he was an international student at Longwood Gardens in Pennsylvania and interned at the Pacific Tropical Botanical Garden in Hawaii. He then oversaw the landscapes of two hotels and a golf course in Bermuda, where he lived for many years. Stephen came to Fort Worth in 1994 as the horticulturist for a private estate. In 2003, he started his own company, Haydon Horticulture, specializing in the care of fine gardens. Stephen is now the horticulturist for the City of Weatherford.
Tickets - $35
Click Here To Purchase Tickets
Congratulations to Debra Wakeland on winning the 2020 Kawasaki Brute Force 300 ATV in our 2019 raffle!!
The raffle draw was made Oct. 12, 2019 during the "A Night In Venice" Masked Ball at Chandor Gardens.
The following are a few photos taken at Freedom PowerSports Decatur when Debra claimed her prize: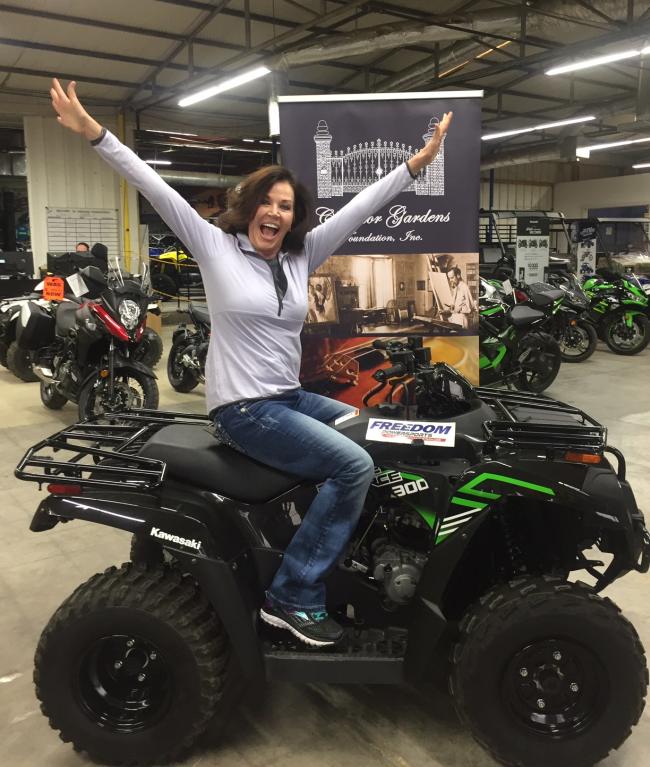 Our HAPPY winner - Debra Wakeland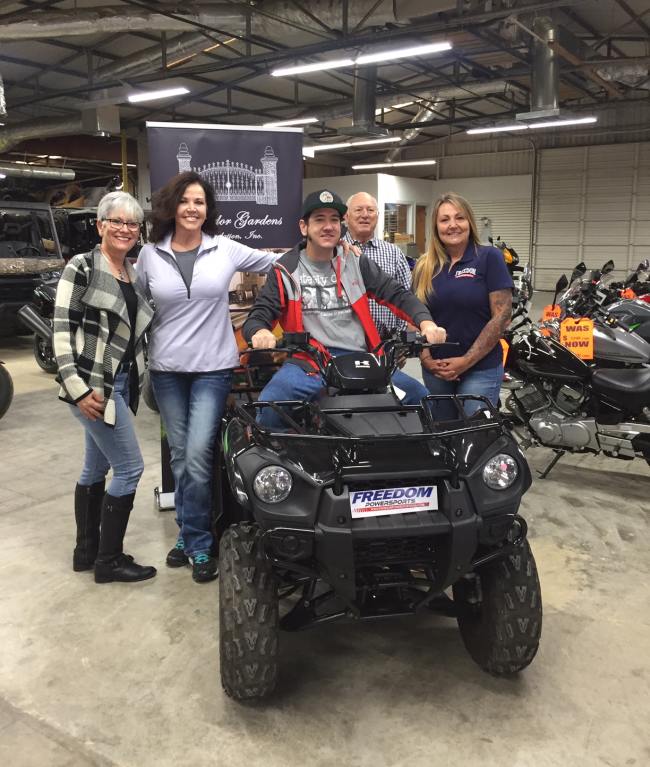 Pictured in the photo (L to R) : Eileen Leslie (Board Member, Chandor Gardens Foundation Inc.), Debra Wakeland (Prize Winner), Wil Wakeland (Debra's son), William Warren (Board Member, Chandor Gardens Foundation Inc.), & Nicole Hufsey (GM, Freedom PowerSports Decatur)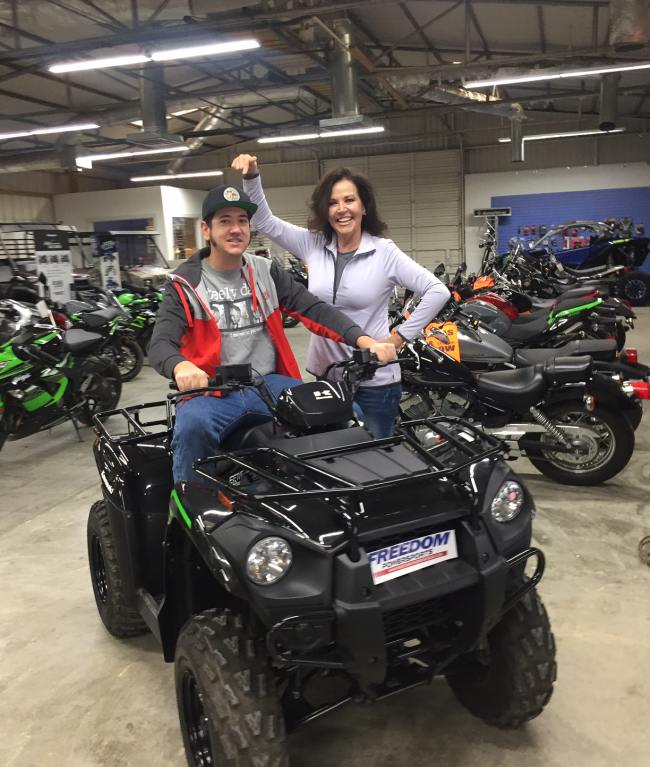 Happy Birthday Wil !!
Debra telling her son Wil that she is giving the ATV to him as a birthday gift.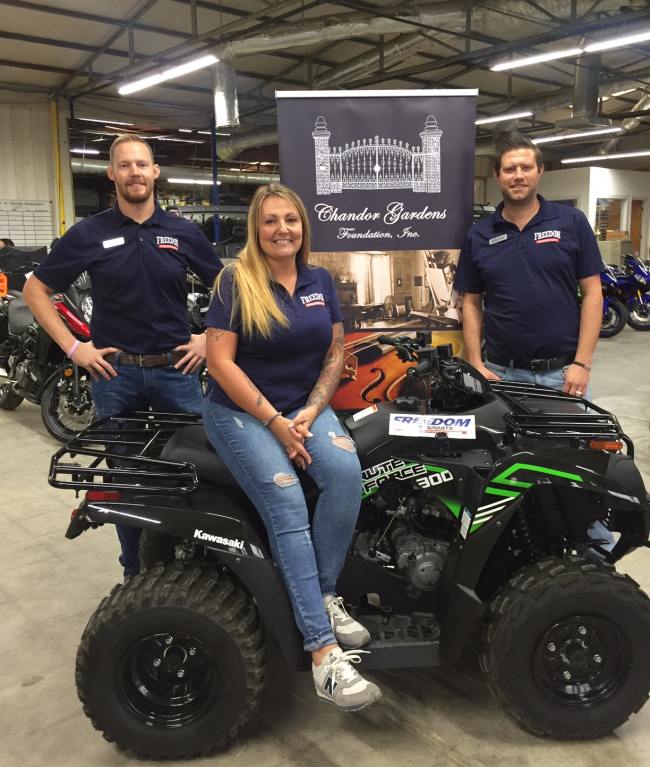 Thank-you to the outstanding team at Freedom PowerSports Decatur for the excellent service provided to us and our raffle winner. Freedom PowerSports Decatur sponsored the ATV for the raffle. Pictured in the photo (L to R): Chris Hall (Sales), Nicole Hufsey (General Manager), and Shane Raney (Sales)