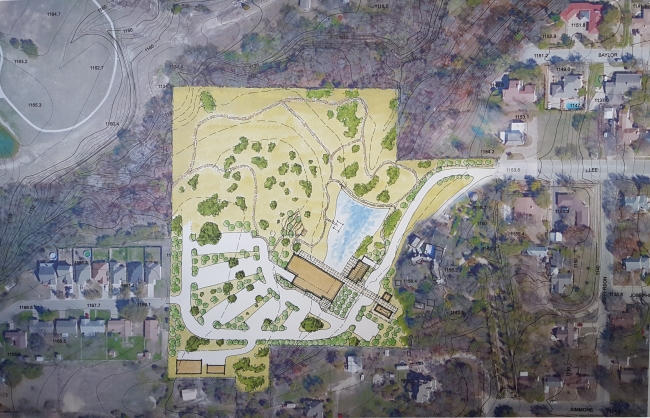 Bennett-Benner Preliminary Site Plan Presented December 10, 2015
Showing building and parking footprint as described below
To further the mission and vision of the Chandor Gardens Foundation, the Foundation has development plans to construct buildings and accessible open space on the vacant 13.5 acres located immediately to the west of the current Gardens and mansion. The buildings are meant to significantly reduce the stress on the Chandor mansion which was not intended for large scale events, provide space for cultural and social endeavors, offer indoor dining, and expand the gift shop to include a visitors center.
The largest facility envisioned by the Foundation will be a pavilion and event center capable of seating approximately 300 people. Weatherford lacks sufficient facilities for large events even today, and with the projected population growth over the next several years, the situation will become more acute.
A kitchen and dining area are planned to support the pavilion and event center, and to provide a place to dine in a natural setting situated in the middle of town. Caterers currently are significantly limited by the small kitchen the Chandor's constructed for their own use and the few guests they occasionally entertained. A new kitchen will eliminate the current space limitations, while the restaurant facility can take advantage of the varied terrain to provide an esthetically pleasing dining experience.
The diverse topography of the acreage also lends itself to seating for an outdoor amphitheater for as many as 200 people. Plays, musical events, dance, and movies are anticipated uses for this building.
Douglas Chandor spent much of his time in and around Weatherford promoting the arts. To further his pioneering work, a visual and performing arts, and classroom building is foreseen. The space can be used for teaching whether in sculpture, painting, textile, weaving, photography, printing, lithography, dance, music, or other arts. It will be suitable for lectures by visiting professionals.
To complement the indoor spaces, open space will allow visitors to walk throughout the property, perhaps on elevated walkways, while enjoying water features and outdoor displays.
Of course, additional on-site parking is a must.
The Foundation has retained the services of the highly respected architectural firm Bennett Benner Partners of Fort Worth. They have a history of incorporating nature, community and purpose in their design efforts, and have worked previously with coalitions of government and private entities to produce unique and esthetically pleasing spaces for all to enjoy.