Chandor Gardens Foundation
The focus of the Chandor Gardens Foundation is to preserve the heritage of the Gardens and work with the City of Weatherford to further develop the Chandor property, in keeping with Douglas Chandor's artistic vision.
Douglas Chandor was one of the great portrait artists of the 20th Century. Five of his paintings are on display in the Smithsonian's National Portrait Gallery. His portrait of Eleanor Roosevelt is displayed in the White House, and his coronation portrait of Her Majesty, Queen Elizabeth II, graces the British Embassy in Washington, DC.
His passion for gardening and his artistry intertwined to be beautifully expressed in the gardens he created and named White Shadows. After the untimely death of Douglas in 1953, his wife, Ina, paid tribute to him by changing the name to Chandor Gardens.
Today, Chandor Gardens is a destination unto itself. It is the location of joyous events, memory-making occasions, and pleasant wanderings.
---
FEATURED FUNDRAISING PROJECTS:
Steinway & Sons Model M Chippendale Style Piano for Chandor Gardens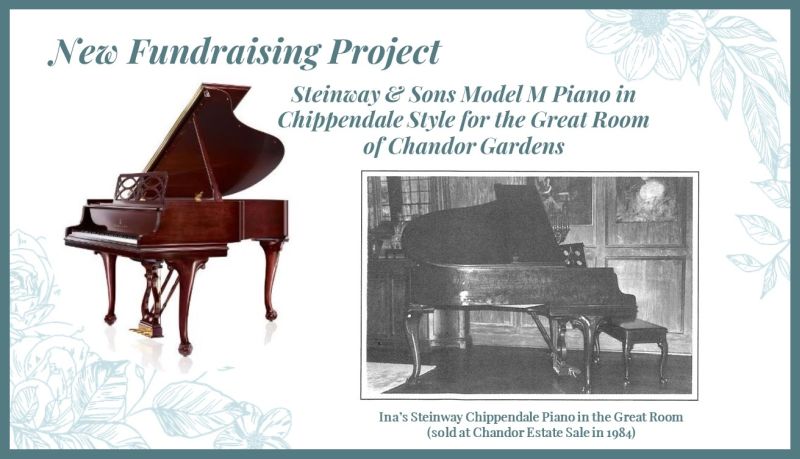 We are excited to announce our newest fundraising project, as of May 2023 we are now activily raising funds to purchase a Steinway & Sons Model M Chippendale style piano for the studio/great room at Chandor Gardens.
The fundraising goal for this project is $50,000 and includes; a used Steinway & Sons Model M Chippendale piano, matching Chippendale piano bench, spider dolly, and establishment of a fund for regular Steinway & Sons certified tuning.
Current Fundraising Progress:

For more details about this project: CLICK HERE
To Make a Donation: CLICK HERE
Bronze Portrait Bust of Douglas Chandor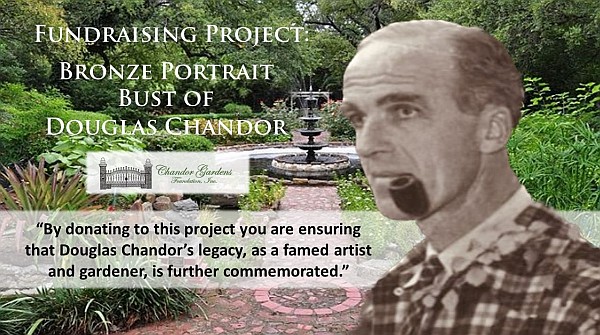 We are thrilled that, as of April 1, 2023, the required funds have been raised for this project, and we have commissioned Fort Worth sculptor Michael Pavlovsky to undertake this life-sized bronze portrait bust of the famed portrait artist and gardener Douglas Chandor (1897– 1953).

We anticipate the this bronze portrait bust will be completed and installed at Chandor Gardens in late 2023 or early 2024.
Thank you so very much to all those who donated to this fundraising project.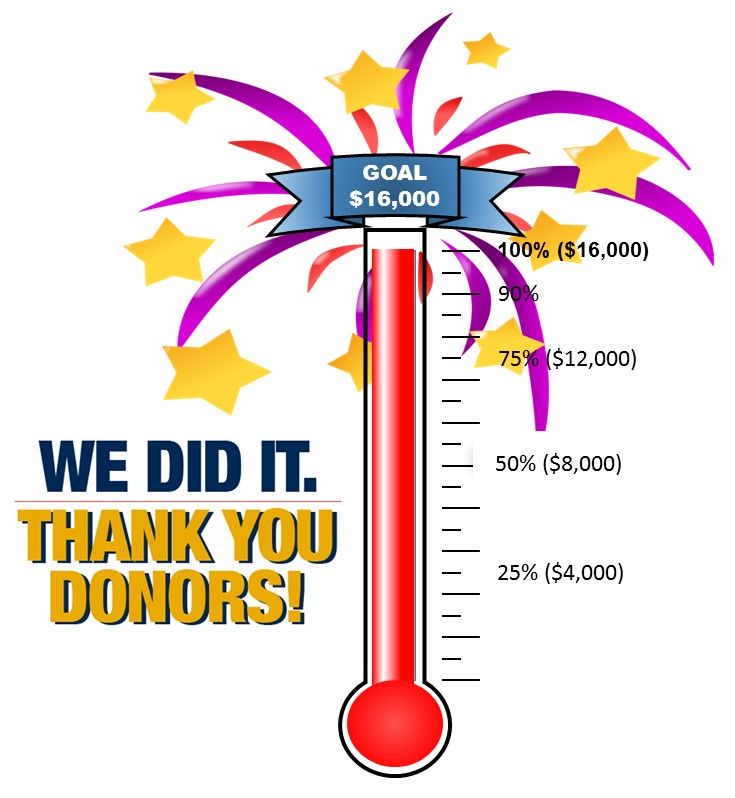 For More Details About This Project - CLICK HERE
UPCOMING FEATURED FOUNDATION & FRIENDS EVENTS:
Wine & Music: TCU Harp Ensemble "An Autumnal Concert" @ Chandor Gardens - October 12, 2023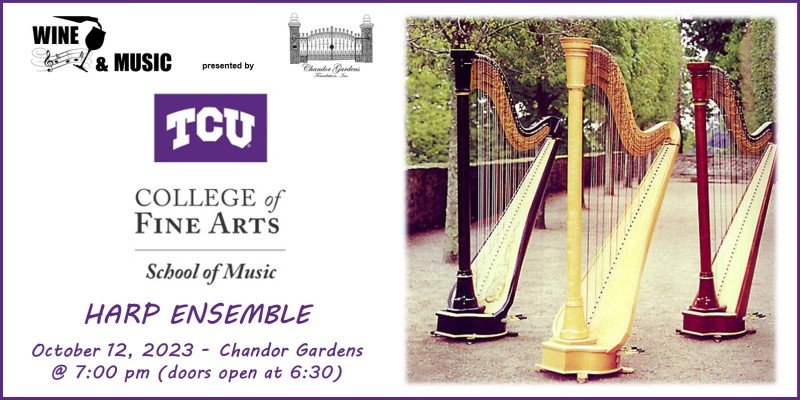 Chandor Gardens Foundation Inc is pleased to present "An Autumnal Concert" by The TCU Harp Ensemble, as part of our Wine & Music series of concerts, in the Great Room of Chandor Gardens on Thursday, October 12, 2023.
The TCU Harp Ensemble directed by Kela Walton invites you to enjoy an evening of autumnal music with works (solos, duets, and trios) by Andres, Handel, Hasselmans, Salzedo, Tournier, and more.
Come and celebrate the autumnal season through beautiful harp music in the enchanting setting of Chandor Gardens.
Program starts at 7:00 PM (doors open at 6:30 PM)
Tickets $30 (wine/beer included in ticket price)
CLICK HERE TO PURCHASE TICKETS
Friends of Chandor Gardens Members Tour: Texas Civil War Museum, Fort Worth - October 19, 2023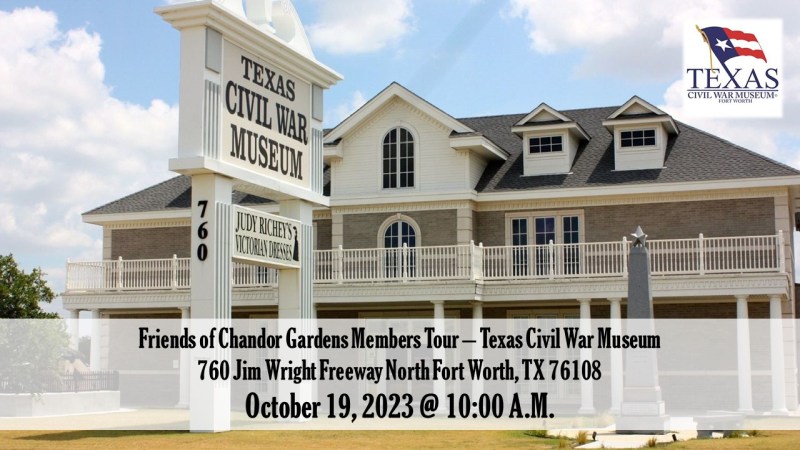 The Texas Civil War Museum maintains the most comprehensive collection of artifacts west of the Mississippi River. While TCWM is best known for its military collections, it also holds significant collections of domestic objects and historic flags, personal items and artifacts, and postwar Victorian attire. The Texas Civil War Museum is a rare partnership in that it contains private collections and a collection in public trust. Artifact collections total approximately 2,500 items rotating on exhibit.
IMPORTANT NOTE: Museum will be permanently closed December 30, 2023 due to owners retirering.
Address: 760 Jim Wright Freeway North, Fort Worth, TX 76108 (off of 820N)
We will meet at the museum at 10:00 AM and will have a docent with Civil War expertise talk to our group about the life of a Civil War soldier.
After the tour we will go to lunch - Restaurant TBD
Tour Fee: $7.00 (includes admission and docent fee)
Please RSVP to Nancy Wester @ 972-746-6078 (call or text) by Oct 17
Texas Chapter of the Portrait Society of America Face Off Event @ Chandor Gardens - October 28, 2023
Looking for 7 volunteers to be live models for the artists.
Send us an email if you would be willing to volunteer as a model -
Wine & Words: "Interiors for Collectors" by John Phifer Marrs @ Chandor Gardens - November 11, 2023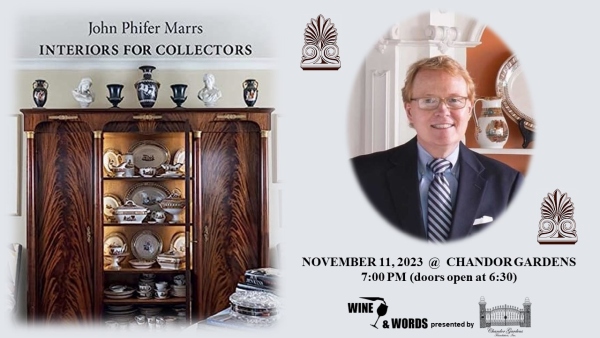 "ONE IS NICE. TWO IS BETTER. THREE IS A COLLECTION." – JOHN PHIFER MARRS
Join us for our ongoing "Wine & Words" Speaker Series the evening of Saturday, November 11, 2023 in the Great Room at Chandor Gardens, Weatherford, TX to hear interior designer and author John Phifer Marrs speak about designing Interiors for Collectors. Presented with charm and a magical sense of humor through entertaining stories and anecdotes.
Presentation starts at 7:00 P.M. - Doors Open at 6:30 P.M.
Tickets - $30 (wine/beer included in ticket price)
CLICK HERE TO PURCHASE TICKETS
Friends of Chandor Gardens Meeting with Guest Speaker Judy James @ Chandor Gardens - November 15, 2023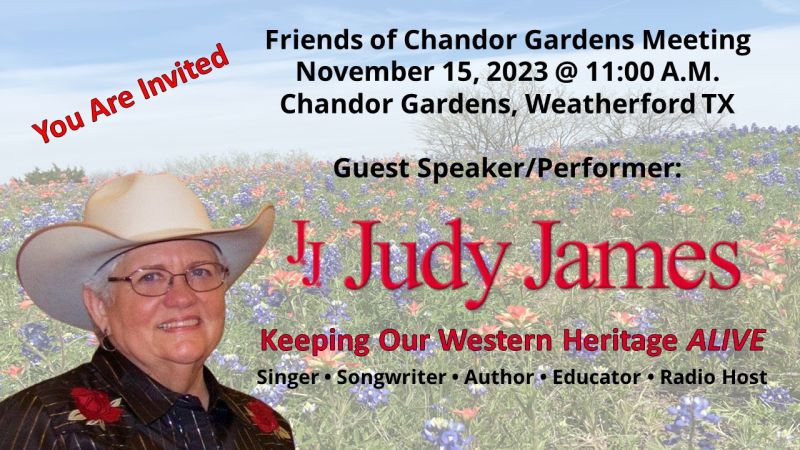 This is a FREE event and everyone is WELCOME.
Chandor Gardens Foundation & Friends Christmas Party @ Chandor Gardens - December 7, 2023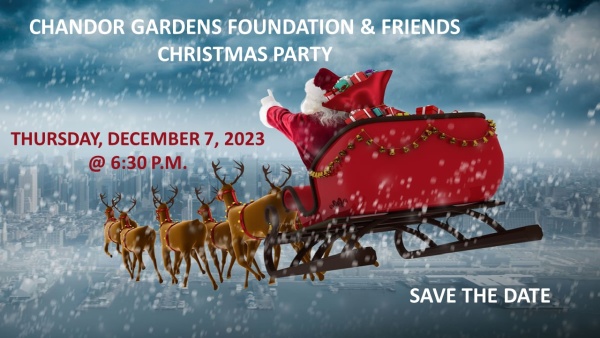 DETAILS TBA SOON
Follow us on Facebook to keep in touch with our Chandor Gardens Foundation community.
For more information about any of our featured events please call 682-268-0102.
---