Chandor Gardens Foundation
The focus of the Chandor Gardens Foundation is to preserve the heritage of the Gardens and work with the City of Weatherford to further develop the Chandor property, in keeping with Douglas Chandor's artistic vision.
Douglas Chandor was one of the great portrait artists of the 20th Century. Five of his paintings are on display in the Smithsonian's National Portrait Gallery. His portrait of Eleanor Roosevelt is displayed in the White House, and his coronation portrait of Her Majesty, Queen Elizabeth II, graces the British Embassy in Washington, DC.
His passion for gardening and his artistry intertwined to be beautifully expressed in the gardens he created and named White Shadows. After the untimely death of Douglas in 1953, his wife, Ina, paid tribute to him by changing the name to Chandor Gardens.
Today, Chandor Gardens is a destination unto itself. It is the location of joyous events, memory-making occasions, and pleasant wanderings.
---
UPCOMING FEATURED FOUNDATION EVENT
PUBLIQuartet -Presented by The Cliburn Community Concert Series - Saturday, October 26th, 2019 7:00 P.M.
The Cliburn is pleased to announce an exciting opportunity to present to you the young, vibrant, and innovative string quartet, PUBLIQuartet (with violinist Curtis Stewart, violinist Jannina Norpoth, violinist Nick Revel, and cellist Hamilton Berry) at the Chandor Gardens mansion.
This visionary group of musicians was the 2016-2017 Quartet-in-Residence at the Metropolitan Museum of Art in New York, and has been hailed by the Washington Post as "A perfect encapsulation of today's trends in chamber music".
Simply put, you cannot miss this concert!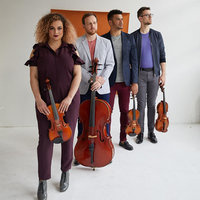 There are only 90 tickets available for this exclusive concert, as such even though this is a FREE concert tickets must be reserved in advance. Doors open at 6:00pm and the concert begins at 7:00pm. This concert is SOLD OUT!!
For more information about any of these featured events please call 817-613-1700.

---