Chandor Gardens Foundation
The focus of the Chandor Gardens Foundation is to preserve the heritage of the Gardens and work with the City of Weatherford to further develop the Chandor property, in keeping with Douglas Chandor's artistic vision.
Douglas Chandor was one of the great portrait artists of the 20th Century. Five of his paintings are on display in the Smithsonian's National Portrait Gallery. His portrait of Eleanor Roosevelt is displayed in the White House, and his coronation portrait of Her Majesty, Queen Elizabeth II, graces the British Embassy in Washington, DC.
His passion for gardening and his artistry intertwined to be beautifully expressed in the gardens he created and named White Shadows. After the untimely death of Douglas in 1953, his wife, Ina, paid tribute to him by changing the name to Chandor Gardens.
Today, Chandor Gardens is a destination unto itself. It is the location of joyous events, memory-making occasions, and pleasant wanderings.
---
UPCOMING FEATURED FOUNDATION EVENTS
"Fancy Feathered Friend" Paint Party - January 24, 2020, 6:00 PM to 9:00 PM
Discover your inner artist in the studio that the renowned portrait artist Douglas Chandor painted in!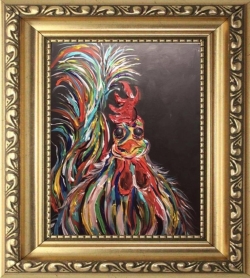 Chandor Gardens Foundation Inc. has teamed up with RubyGypsy Paint Parties to present this exciting painting evening at Chandor Gardens Mansion, 711 West Lee Ave., Weatherford, TX
A pre-sketched canvas of a whimsical rooster and all materials will be provided, as well as step by step instruction to walk you through the process of painting your very own masterpiece (fancy frame not included). No prior painting experience is required.
Wine and snacks are also included in the ticket price.
Tickets - $40
Click Here to Purchase Tickets
An Evening of Wine & Words: Stephen P. Haydon - February 7, 2020, 6:30 PM to 9:00 PM
"Las Pozas: Our Extraordinary Adventure to a Bizarre Surrealist Garden"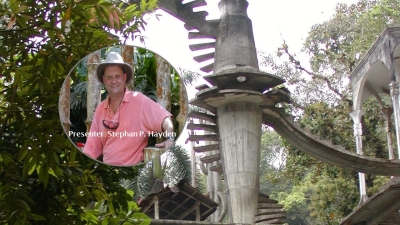 Stephen P. Haydon, Horticulturist for the City of Weatherford, shares his photos and the captivating story of 'Las Pozas', the remarkable surrealist sculpture garden in the remote jungles of Mexico.
Chandor Gardens Mansion | 711 West Lee Ave., Weatherford, TX
Doors open at 6:30 P.M for wine and hors d'oeuvres, the talk begins at 7:00 P.M
Tickets - $35
Click Here To Purchase Tickets
For more information about any of our featured events please call 817-613-1700.

---