Chandor Gardens Foundation
The focus of the Chandor Gardens Foundation is to preserve the heritage of the Gardens and work with the City of Weatherford to further develop the Chandor property, in keeping with Douglas Chandor's artistic vision.
Douglas Chandor was one of the great portrait artists of the 20th Century. Five of his paintings are on display in the Smithsonian's National Portrait Gallery. His portrait of Eleanor Roosevelt is displayed in the White House, and his coronation portrait of Her Majesty, Queen Elizabeth II, graces the British Embassy in Washington, DC.
His passion for gardening and his artistry intertwined to be beautifully expressed in the gardens he created and named White Shadows. After the untimely death of Douglas in 1953, his wife, Ina, paid tribute to him by changing the name to Chandor Gardens.
Today, Chandor Gardens is a destination unto itself. It is the location of joyous events, memory-making occasions, and pleasant wanderings.
---
UPCOMING FEATURED FOUNDATION EVENTS
Secret Gardens of Parker County Tour - Saturday, June 6, 2020, 10:00 a.m. to 4:00 p.m.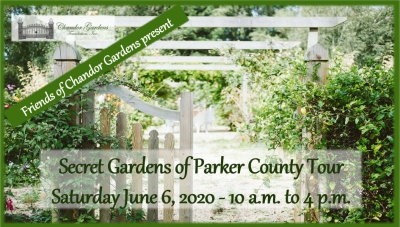 Enjoy a self-guided journey through 5 unique gardens in Parker County
An exciting glimpse behind the hedges, fences and gates!
Gardens:
109 McClintock, Woodlands of Parker County
2000 East Dry Creek Rd., Poolville
1214 Forest Park Drive, Weatherford
321 Cleveland Ave., Weatherford
711 W. Lee Ave., Chandor Gardens, Weatherford
For additional information call: Karen Kennedy 817-550-7762
SAVE THE DATE - Tickets for this event will go on sale May 1, 2020
For more information about any of our featured events please call 817-613-1700.

---