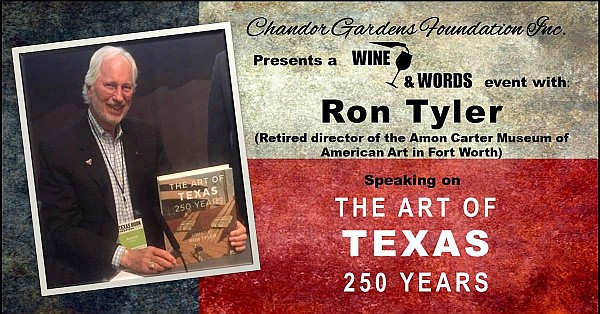 Chandor Gardens Foundation Inc. was pleased to present a Wine & Words evening on March 12, 2022, at Chandor Gardens Mansion, at 7:00 P.M. (Doors opened at 6:30) with guest speaker Dr. Ron Tyler presenting: The Art of Texas: 250 Years to the jsut under 80 ticket holders in attendance.
Guests enjoyed a glass of wine while Dr. Ron Tyler shared a summary of beautiful illustrations and insigh ts into how the art of Texas captured the uniquely Texan culture formed over the centuries.
Ron Tyler is the editor of The Art of Texas: 250 Years, which tells the deeper story of Texas art, beginning with Spanish colonial paintings and moving through two and a half centuries of art in Texas.
The Art of Texas: 250 Years is a ten-by-twelve-inch hardcover book with more than 350 full-color illustrations and fourteen essays written by noted scholars, art historians, and curators with the intent to analyze and characterize Texas art on a grand scale. The essays in the book are arranged chronologically by subject, starting with Tyler's essay on the history of Texas art from the eighteenth and early nineteenth centuries and concludes with an essay by K. Robinson Edwards on "Liberty and Lone Star Modernism" in the twentieth century.
Ron Tyler is the retired Director of the Amon Carter Museum of American Art in Fort Worth, Texas (2006-2011). He is former Professor of History at the University of Texas at Austin and Director of the Texas State Historical Association and the Center for Studies in Texas History at the University (1986-2006), during which time he was the editor-in-chief of The New Handbook of Texas (6 vols.; 1996 and now online) and the Southwestern Historical Quarterly (1986-2004). Before moving to Austin, he served for eighteen years as Curator of History and Director of Public Programs at the Carter.
Tyler is the author of numerous books on history and art including Santiago Vidaurri and the Southern Confederacy (1973), The Slave Narratives of Texas (co-editor, 1974), The Big Bend: A History of the Last Texas Frontier (1975), The Cowboy (photographs by Bank Langmore, 1975), Visions of America: Pioneer Artists in a New Land (1983), Audubon's Great National Work: The Royal Octavo Edition of The Birds of America (1993), Prints of the West (1994), and Western Art, Western History: Collected Essays (2019).
At the end of the presentation Ron will signed copies of the book The Art of Texas: 250 Years