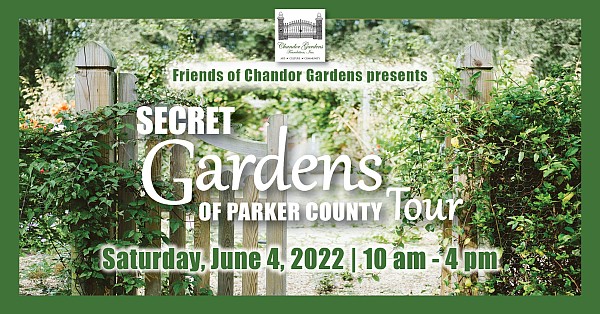 Enjoy a self-guided journey through 5 unique gardens in Parker County.
An exciting glimpse behind the hedges, fences and gates!
The Friends of Chandor Gardens are pleased to present this exciting tour of 5 unique gardens in Parker Country, Texas, which showcases stunning views, garden art, fascinating plants and landscaping ideas.
This is a self-guided tour, so you can make your own itinerary and go at your own pace.
Tickets:
$12/person - online in advance
$15/person - at in-person sales outlets or day of the event at 1st garden visited.
For safety concerns please no children under 12.
NOTE - Those purchasing tickets online will be emailed a brochure with information about each garden and a map closer to the tour date. Ticket holders will be provided a printed copy of the brochure at the 1st garden gate visited the day of the event.
Gardens:
204 Creekside Drive, Aledo
1214 Forest Park Drive, Weatherford
2000 East Dry Creek Rd., Cactus Jack Ranch (11 miles North of Weatherford)
321 Cleveland Ave., Weatherford
711 W. Lee Ave., Chandor Gardens, Weatherford
Regrettably, due to stairs and uneven terrain, the gardens on the tour are not fully accessible for those with mobility disabilities.
Bottled water will be available for purchase at the entrance of each garden.
In case of cancellation, due to significant inclement weather, the tour will be held Saturday, June 11, 2022, instead.
We are only able to be in the private gardens through the gracious kindness of the owners. Thank-you so much to the garden owners!
For additional information call: 817-550-7762
** Proceeds benefit the enhancement of Chandor Gardens in keeping with the artistic vision of Douglas Chandor **
CLICK HERE TO PURCHASE TICKETS
PLEASE JOIN US IN THANKING OUR GARDEN TOUR SPONSORS