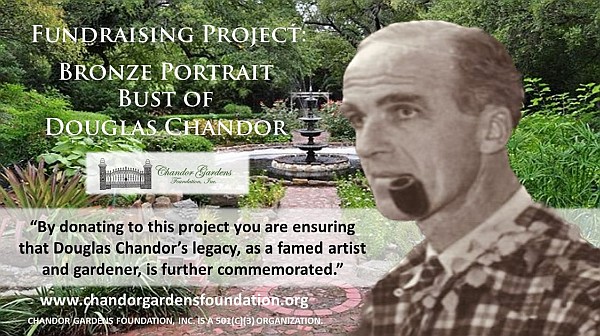 Chandor Gardens Foundation Inc. & Friends of Chandor Gardens are fundraising and seeking donations to commission a life-sized bronze portrait bust of the famed portrait artist and gardener Douglas Chandor (1897– 1953), by Fort Worth sculptor Michael Pavlovsky.
Project Details
This bronze portrait bust would be "in the round," and would include his neck and upper center chest. Douglas would have his pipe in his mouth. The outline of the upper chest area would be "cut" between his neck and shoulders, tapering downwards symmetrically to a rounded bottom front edge. This composition would not include his shoulders. The subject's head would be slightly turned to one side, and his expression would be pleasant. The bronze bust itself, not including the mounting base, would be approximately sixteen inches.
The completed bronze will be situated in a highly visible and trafficked area within the gardens at Chandor Gardens. Creating a pleasant surprise for visitors to the gardens!
It will be placed in the gardens as a focal point, with the intention to visually allow visitors to identify with Douglas Chandor as a person, and a fellow gardener. It will also serve as an educational portal point for visitors to learn about Douglas Chandor's legacy as a famed artist, visionary gardener, and outstanding citizen of Weatherford, Texas. The signage adjacent to the bust would be in the form of a QR code sign, which when scanned would take visitors to an online page that would provide interesting background details and photos about Douglas Chandor's life, and would include insights and quotes about Douglas' approach to gardening in north Texas, and his deep passion for gardening.
Here are a few examples of such quotes and insights:
"God gave me the talent to paint the pictures so that I could sell them to get the money to build the garden."
Douglas Chandor's comment to his wife Ina.(Harold Lawrence, Douglas Chandor An English Artist and His Texas Garden, Antler Press, 1999)
"I love the sunny skies of Texas but I want to see her open prairies dotted with gardens."
Douglas Chandor's quote per Malcolm Vaughn in his brochure created for the opening of White Shadows under its new name Chandor Gardens [1953].
"Visitors to the garden often found Douglas with fresh mortar repairing a brick walk or wall, with a ladder and pliers stretching wires for the wisteria to which he trained that rampant vine, or on his knees weeding."
(Harold Lawrence, Douglas Chandor An English Artist and His Texas Garden, Antler Press, 1999)
"Our recognition of Douglas Chandor at the February 2nd [1953] Appreciation Dinner is a gesture long overdue. The reflected credit enjoyed by our city from his renowned White Shadows Gardens [Chandor Gardens]… has been incalculable."
(James C. Wright Jr., President, Weatherford Chamber of Commerce remarks in the "Douglas Chandor Appreciation Dinner, February 2nd 1953" printed program honoring Douglas Chandor as Weatherford's very first Citizen of the Year) [The dinner never occurred as Douglas passed away a few weeks prior to the planned date.]
"He designed what was surely one of the most difficult to build and one of the most beautiful one-man gardens in all of gardening history. Douglas Chandor cherished his garden. His work was a labor of love. It stands as an inspiring example of what can be accomplished with wood, stone, water and living plants."
(Great Gardens of America, Country Beautiful, General editor Carroll C. Calkins, 1969)
Project Budget & Fundraising Progress
The overall project budget is $16,000 and includes; the bronze portrait bust, the purchase of an appropriate base (in keeping with the aesthetic style of Chandor Gardens) to mount the bronze bust on, a name plaque, and related signage.
Fundraising progress: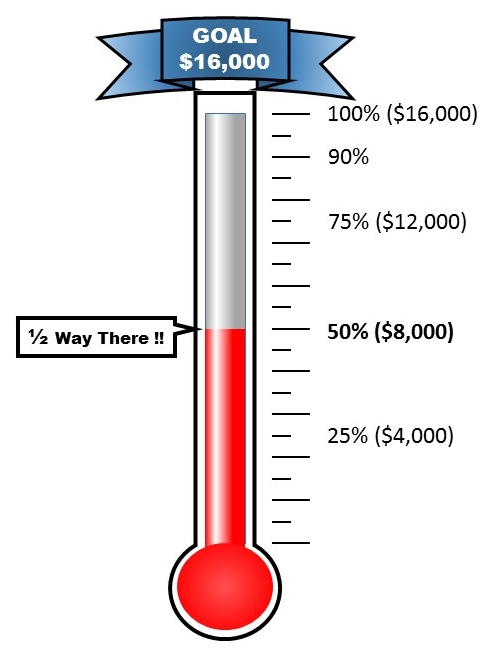 By donating to this project you are ensuring that Douglas Chandor's legacy, as a famed artist, visionary gardener, and outstanding citizen of Weatherford, Texas is further commemorated.
Your support of this project is greatly appreciated!