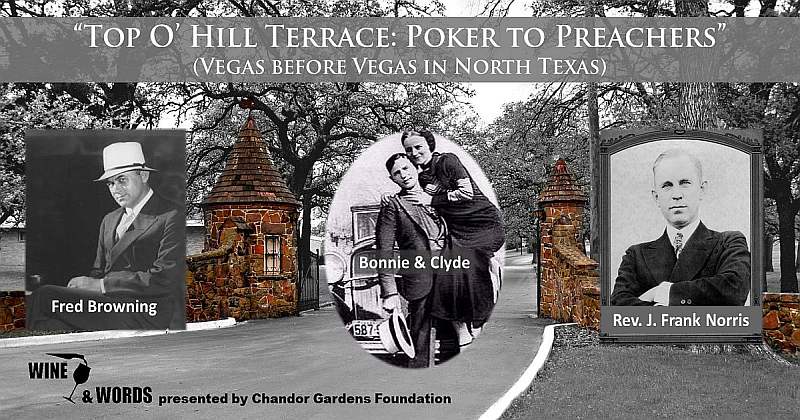 This event was part of the on going "Wine & Words" Speaker Series held the evening of Saturday, April 1, 2023 at Chandor Gardens, Weatherford, TX where attendees heard the story of "Top O' Hill Terrace: Poker to Preachers" by speaker Vickie Bryant, historian, author, curator, and pastor's wife.
The story of Top O' Hill Terrace, known as "Vegas before Vegas", see,ms improbable, unbelievable, and even impossible. It is a Texas story stranger than fiction, but a story that is absolutely true!
On the surface, Top O' Hill Terrace appeared to be an elegant tearoom located along the Bankhead Highway between Fort Worth and Dallas. However, on the underside, during the 1930's and 1940's lurked a glitzy speakeasy and notorious casino. Top O' Hill Terrace was the "it" place to gamble before Las Vegas became the gambling mecca of the nation.
Top O' Hill Terrace was a place where the rich and famous rubbed shoulders with the rich and infamous. Some of the casino's more famous visitors included; Marlene Dietrich, Will Rogers, Mae West, John Wayne, Dean Martin, Hedy Lamarr, Howard Hughes, W. C. Fields, Lana Turner, Frank Sinatra, as well as high-profile gangsters like Bugsy Siegel, Bonnie Parker, and Clyde Barrow.
Fred Browning the clever and savvy owner of Top O' Terrace casino had many powerful friends, but also had powerful enemies: law enforcement and Rev. J. Frank Norris, pastor of First Baptist Church and co-founder of Bible Baptist Seminary (now Arlington Baptist University). Norris vowed one day to own Top O' Hill Terrace. His prediction came true in 1956 when the Bible Baptist Seminary, purchased the property and converted it from a casino to a seminary.
Speaker Vickie Bryant has spent the last 20 years collecting memorabilia, photographs, and stories about Top O' Hill Terrace. Giving her the ability to pull her audience back in time to the days of moonshine and poker, or as she likes to say, from "Poker to Preachers." The rich history began with a simple tearoom and evolved into illegal gambling, moonshine, brothels, and murder.
Tickets were $30, doors opened at 6:30 p,m, and the presentation stated at 7:00 p.m.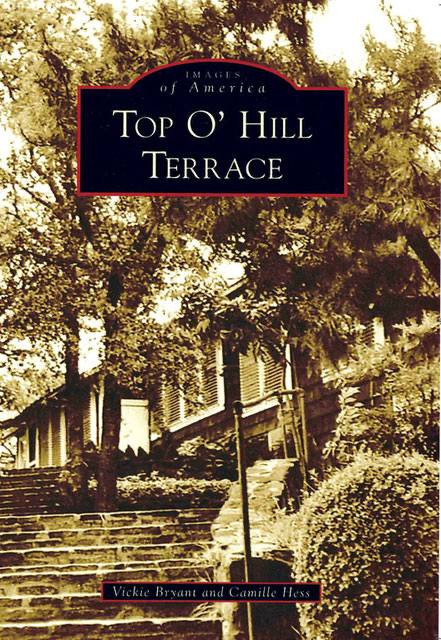 The book Top O' Hill Terrace by Vickie Bryant and Camille Hess (Publisher - Arcadia Publishing, 183 Images, 128 pages) was available for purchase after the presentation.
Authors Vickie Bryant and Camille Hess have been friends for more than 30 years, and both married Baptist ministers who graduated from Bible Baptist Seminary. Bryant, an Ohio native, began an interest in the school's history when her husband, Dr. David Bryant, was named president of the college. She started researching its colorful past and became founder and curator of the Top O' Hill Collection. Hess, born and raised on Fort Worth's North Side, has managed a medical office and owned an art gallery and antique shop. Currently, she enjoys assisting Bryant in her ongoing search for information.