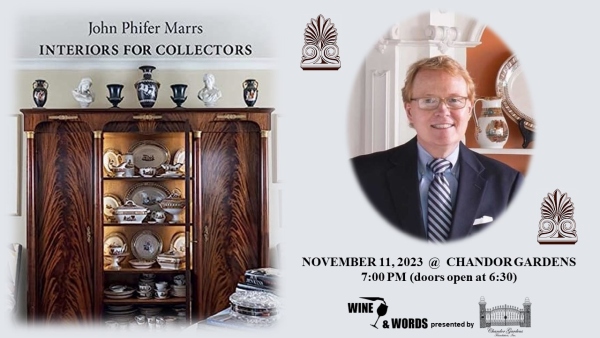 "ONE IS NICE. TWO IS BETTER. THREE IS A COLLECTION." – JOHN PHIFER MARRS
Join us for our ongoing "Wine & Words" Speaker Series the evening of Saturday, November 11, 2023 in the Great Room at Chandor Gardens, Weatherford, TX to hear interior designer and author John Phifer Marrs speak about designing Interiors for Collectors. Presented with charm and a magical sense of humor through entertaining stories and anecdotes.
John Phifer Marrs, an expert interior designer and purveyor of antiques, presents a luxurious look at unique and beautiful ways to display collected objects of just about anything and everything you can imagine - from arranging in a cabinet to using an entire wing of a house.
When a client has multiple items that could make up a collection, gathering them and displaying them in a beautiful arrangement is his specialty. But aesthetics aren't the only considerations. Many clients' collections include valuable art, books, or historical documents that need to be preserved and protected in the proper casing, framing, and lighting.
"I think everyone should collect something," – John Phifer Marrs
His book Interiors for Collectors is about the joy of collecting and his passion for displaying just about anything and everything in unique and beautiful ways. It is an inspirational guide for displaying collections exquisitely, and contains many lavish photographs.
John's book Interiors for Collectors will be available for purchase at this event.
Book signing immediately following presentation.
About John Phifer Marrs:
John Phifer Marrs is a premier Southern interior designer known for an elegant, fresh and inviting style often called "The New Southern Style." His interiors reflect his southern roots and combine a sense of the past with comfort and convenience. Funny and irreverent, with a "Saturday Night Live" sense of humor, John has been very busy entertaining his A-list clients and creating magical interiors in Texas, across the United States and in Europe and Central America. His projects include major residences, vacation homes, executive offices and even the official residence of a United States Ambassador. In 2014 "D Magazine" named him one of "The Dallas Dozen" – a salute to the twelve most important players in the city.
His education includes post-graduate studies in the U.S., as well as in the European Program at the Parsons School of Design in both Paris and Rome. He is an accredited interior designer, having successfully completed the NCIDQ Examination, and is a registered interior designer in the state of Texas.
Presentation starts at 7:00 P.M. (Doors Open – 6:30 P.M.)
Tickets - $30 (wine/beer included in ticket price)
CLICK HERE TO PURCHASE TICKETS