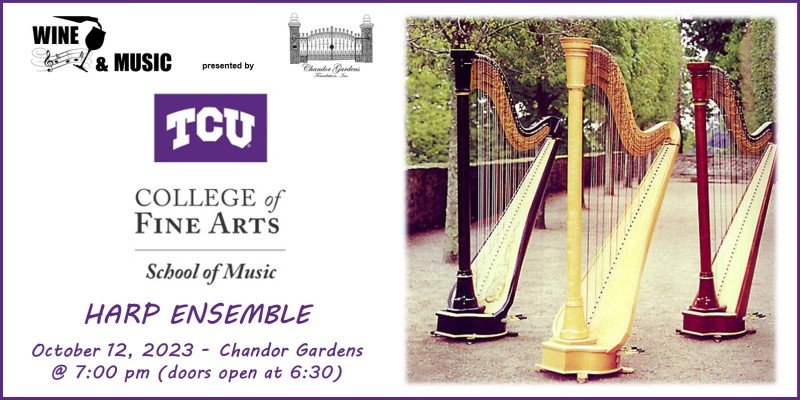 Talented musicians creating a musical experience that is emotional and entertaining!
Chandor Gardens Foundation Inc is pleased to present "An Autumnal Concert" by The TCU Harp Ensemble, as part of our Wine & Music series of concerts, in the Great Room of Chandor Gardens on Thursday, October 12, 2023.
The TCU Harp Ensemble directed by Kela Walton invites you to enjoy an evening of autumnal music with works (solos, duets, and trios) by Andres, Handel, Hasselmans, Salzedo, Tournier, and more.
Come and celebrate the autumnal season through beautiful harp music in the enchanting setting of Chandor Gardens.
Program starts at 7:00 PM (doors open at 6:30 PM)
Tickets $30 (wine/beer is included)
CLICK HERE TO PURCHASE TICKETS
TCU Harp Ensemble Performer Bios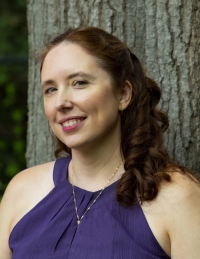 Kela Walton
Native Texan, Kela Walton enjoys a varied career as a harp instructor and freelance performer. An innovative educator, Kela serves on the faculty at Texas Christian University in Fort Worth where she teaches harp to university and pre-college students, leads the TCU Harp Ensemble, and is the director of the TCU Summer Harp Workshop.
In demand as a teacher and clinician, Kela has worked with harp students and adjudicated competitions throughout the U.S. since 1998. She co-directed the Youth Harp Ensemble at the 2016 American Harp Society National Conference in Atlanta, Georgia. A registered Suzuki instructor, Kela founded the harp program at Buffalo Suzuki Strings where she taught individual and group harp lessons as well as Early Childhood Education classes until 2018.
Kela can be heard on the 2019 release Respighi: Roman Trilogy for the Naxos label, as well as several other orchestral recordings. She held the position of Interim Principal Harp with Buffalo Philharmonic Orchestra during the 2017-18 season and toured internationally with the BPO in Poland. Kela has performed with orchestras throughout the U.S. including the Asheville Symphony Orchestra, Austin Symphony Orchestra, Rochester Philharmonic Orchestra, San Antonio Symphony, South Carolina Philharmonic, Savannah Philharmonic, Temple Symphony, and Waco Symphony Orchestra. As a chamber musician she has premiered new works by award winning composers and was the harpist in residence with the Buffalo Chamber Players in New York.
Passionate about serving the harp community, Kela is currently the elected Chairman of Board of Directors for the American Harp Society. Kela's articles have been published in the Harp Column magazine and The American Harp Journal. When not at the harp, she enjoys running, practicing yoga, and spending time with her nieces and nephew.
Kela Walton holds a Master of Music in Harp Performance and Pedagogy from The University of Houston Moores School of Music, and a Bachelor of Music in Harp Performance from The University of Texas at Austin Butler School of Music.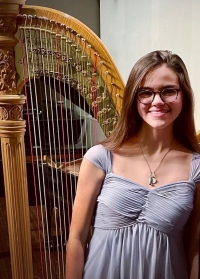 IsabellaGrace Ebo
Raised in a musical household, IsabellaGrace Ebo has always had a passion for making music. She began playing harp in 2015 in Virginia Beach, VA, having previously studied piano and violin. After moving to Texas in 2018, she studied with Dr. Laura Brandenburg through the music preparatory division at Texas Christian University.
IsabellaGrace is a proud member of the American Harp Society, and in 2021, she placed 1st in two competitions hosted by the Dallas chapter of the AHS. In 2023, IsabellaGrace was selected to be one of twelve TMEA All State harpists. She enjoyed meeting fellow musicians and playing in an All State ensemble at the annual convention in San Antonio.
IsabellaGrace is in her second season as a member of the Fort Worth Youth Orchestra, currently serving as principal harpist under the direction of Dr. Germán Gutiérrez. She has been a guest artist with other FWYO ensembles, including the Philharmonic Orchestra and the Wind Ensemble. She was also the principal harpist for the Tarrant County Community Orchestra, 2021-2022.
As a Home School Senior, IsabellaGrace continues her harp studies in the prep program at TCU, and has been studying with Kela Walton since 2022. She also enjoys playing harp in the orchestra at Christ Chapel Bible Church, where she and her family have attended since 2018.
When not behind her harp, IsabellaGrace loves to travel, read, watch classic Westerns and movies, pet dogs, and spend time with her amazing family.
Lyndsey Walker
Lyndsey is an active harpist and violist studying Music Education at TCU. Lyndsey started Suzuki at a young age cannot remember many days without music. She tributes many of her successes to her teachers and mentors who have dedicated countless hours into shaping her into the musician she is today.
Lyndsey's academic achievements include a Bachelor of Arts degree in Biology awarded by Texas Christian University in 2021 and a Master of Science degree in Medical Physiology with a perfect 4.0 academic distinguishment awarded by Case Western Reserve University in 2022. As musician health becomes a more prominent subject in the field of music, Lyndsey's goal is to incorporate her vast background in physiology and to promote musician health and wellness in the classroom and the community.
Some of Lyndsey's musical accomplishments include being a member of the TCU Symphony for 6 years, being selected as a concerto competition winner and performed Ashokan Farewell as a viola soloist with the Arlington High Symphony. She was a six-year All-Region violist and advanced to all-area three consecutive times. She is a former member of the Fort Worth Youth Orchestra under the direction of Dr. German Gutierrez. She traveled to Aqui Terme, Italy, in 2017 where she performed in the Interharmony International Music Festival. Additionally, Lyndsey had the privilege of performing with 2CELLOS in 2018 and has also performed with the San Angelo Symphony Orchestra and Sherman Symphony Orchestra. Lyndsey's goal is to become an orchestra director after she graduates next fall, along with continuing to teach students privately.