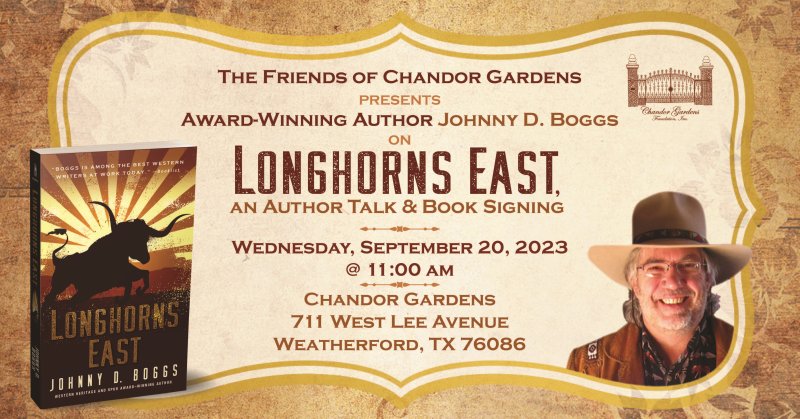 We were thrilled to have, one of the most highly respected and award-winning Western authors, Johnny D. Boggs make Weatherford his first stop on his latest book tour and be our guest speaker at Chandor Gardens on September 20, 2023 .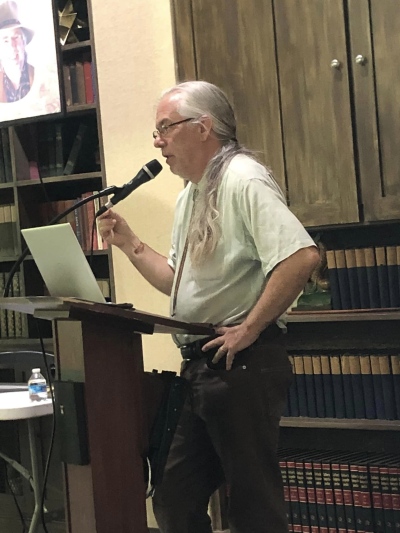 Johnny provided an entertaining talk on his life, and about his newest historical fiction LONGHORNS EAST , which went on sale August 22, 2023.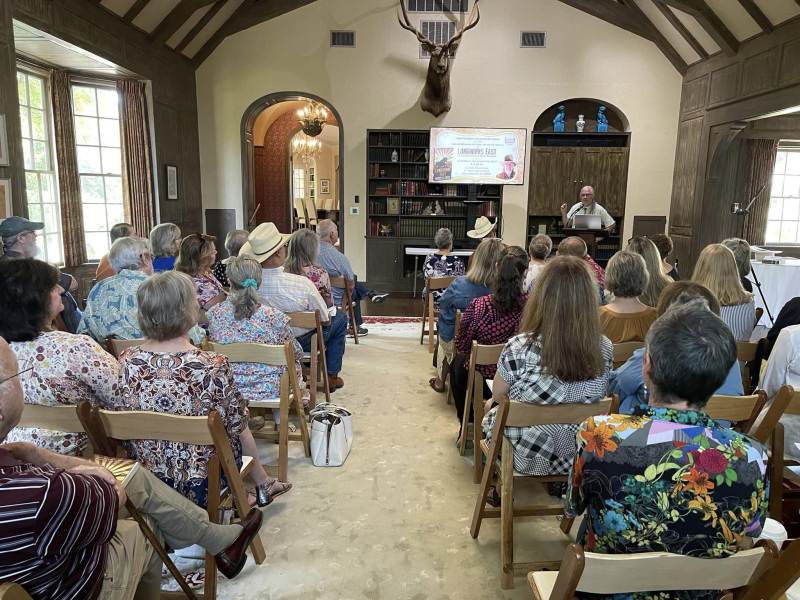 LONGHORNS EAST - A DARING ADVENTURE INSPIRED BY THE INCREDIBLE TRUE STORY OF TOM CANDY PONTING & THE LONGEST, WILDEST CATTLE DRIVE IN AMERICAN HISTORY – FROM THE HEART OF TEXAS TO NEW YORK CITY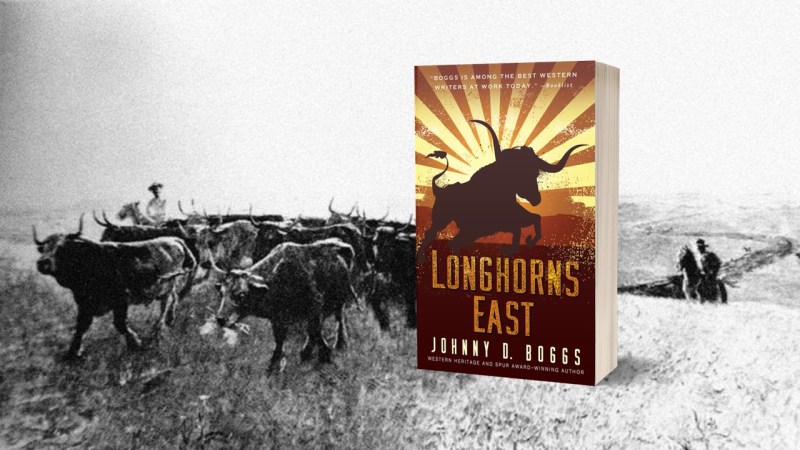 Highly celebrated author Johnny Boggs brings to life the Prairie Cattle King in the first-ever biographical novel based on the remarkable, yet little-known life of Tom Candy Ponting. A harrowing adventure across the grand stage of the Wild West, LONGHORNS EAST is an incredible story of human ambition, pioneer spirit, the savage beauty of nature and the ever-beating heart of the American Dream.
A farmer's son in rural England, Tom Candy Ponting is just twelve when he's tasked with walking 53 cattle to London, a distance of more than 100 miles. The journey is harrowing and nearly kills him more than once, but Tom is always learning – about cattle, his trade, the landscape, and most importantly, about human nature. As a young man, he brings these lessons to America's wild frontier where he'll take a gamble that would transform the American cattle market for decades.
In 1853, Ponting accepts a bet that nobody believes he'll live to regret. He agrees to lead a herd of 700 Longhorn cattle from the heart of Texas all the way to New York City – a precarious journey that would take nearly 2 years on hoof and cover more than 2,100 miles across the vast wild frontier. Along the way, he and his motley crew of cowboys cross railroads and rustlers, hucksters and hustlers, with detours and dead ends aplenty. But if they succeed, they'll make more than just a lot of money. They'll be the first to introduce Texas Longhorns to the biggest city in America. They'll make history.
One of the most respected Western writers working today, Johnny D. Boggs has won more awards than any other Western author, including Louis L'Amour. Now, in LONGHORNS EAST, he resurrects a legendary cattleman nearly lost to history, taking readers on an unforgettable journey as big and bold as the American Dream itself.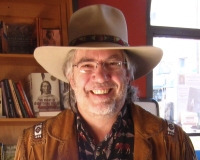 ABOUT THE AUTHOR
Johnny D. Boggs is the highly acclaimed author of more than fifty historical fiction and western novels. A twelve-time Spur Award-finalist and nine-time Spur Award-winner, he has received more awards than any other author in the history of the Western Writers of America, including Louis L'Amour. He is a member of the Western Writers Hall of Fame and the 2020 recipient of Owen Wister Award for Lifetime Contributions to Western Literature from the Western Writers of America. Booklist has called him "among the best Western writers at work today" and he has twice received the True West Magazine Best of the West Award.
Visit Johnny Boggs online at: JohnnyDBoggs.com
PRAISE FOR JOHNNY D. BOGGS
"Johnny D. Boggs is one of today's major writers in the western genre…Filled with bandits, bad weather, prairie fires, Indian attacks,disgruntled drovers, and stampedes… written by a masterful storyteller." – Historical Novels Review, EDITOR'S PICK for A Thousand Texas Longhorns
"Boggs' gift for memorable storytelling rises to its highest level...bringing the reader to a dramatic, page-turning cattle drive, leading to an unforgettable ending. All this is set against Boggs' impeccable research of place and time." —True West on Return to Red River
"Boggs excels at describing the uniquely beautiful, if somewhat brutal, terrain of the Southwest. The Killing Shot is a Western in the classic sense, full of living, breathing characters and boasting a story that never sags." —Tucson Weekly
"Boggs is among the best Western writers at work today. He writes with depth, flavor, and color, all of which are evident in this right-of-passage tale...Boggs tells the familiar story with authenticity and power." -- Booklist on The Lonesome Chisholm Trail